---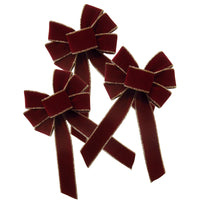 Christmas Ribbons - Holiday Bows

Hand Tied Wired Designer Bows - Wired Indoor Outdoor Burgundy Velvet
Bow
Pack of 3 Bows
1 1/2" (#9) wire edged in gold ribbon
6 loops - one button with attachment wires.
5" x 8" including tails.
Protected in plastic and arranged loosely to avoid crushing.
Shipped in a sturdy corrugated box.

Shipping charges for this item is based on quantity and will be calculated during checkout.